Functionalities on our devices
Here you can see what features are available on our platforms. Below the picture there are also explanations for each function.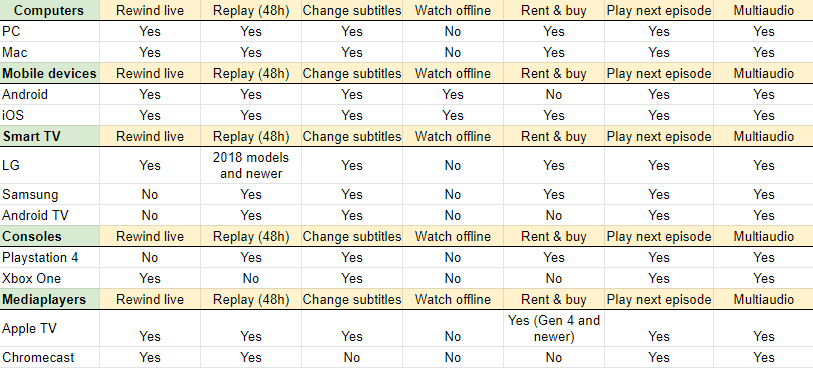 Rewind live
Want to see a goal again or missed the start of a match? On some devices you have the opportunity to rewind in an already started live broadcast. Note! You can rewind a maximum of 4 hours. If you want to rewind for more than 4 hours, you must wait until the broadcast is finished and available as a replay.
Replay (48 hours)
With our replay function you have the opportunity to watch all of our sport broadcasts for up to 48 hours afterwards. Select the event from the sport section and start watching. You can start the broadcast 48 hours after the end of the broadcast, after that it will disappear from the schedule. 
Change subtitles
You can change subtitles on all movies and series that have subtitles available in other languages. Note that e.g. sports broadcasts/sports documentaries usually have no subtitles.
On Chromecast, you cannot switch subtitles when your device is connected to the Chromecast. To change the language you need to disconnect your device from the Chromecast, change the subtitles, and start casting again.
Watch offline
You can download most movies and TV shows on your mobile device (phone/tablet). The content you download is stored on the device's internal memory and cannot be moved to an external memory such as a SD card.
Read more about the offline feature here.
Rent and Buy
In the store section you will find movies that are available as rental or purchase films. These types of movies are not included in any of our subscriptions. Rental movies are available for 48 hours after confirming your purchase and you can watch them as many times as you want. However, bought movies will always be available on the account, as long as you do not delete the account. 
You can find your bought movies on all devices under Keyptar kvikmyndir.
Start next episode
On most devices the next episode starts playing automatically. This means that when you watch a TV show, the next episode starts automatically once the previous episode ends.  
You can turn this function on or off for each profile on the web page by going to Stjórna prófíl > choose the profile you want to edit > choose if you want to have the function on or off. The setting you choose is then applied to all devices you use where this function is available.
Multi audio
On most of the kids films/series you can change the spoken language like you would with subtitles. If your device does not support this feature, the content will start automatically in Icelandic.
On Chromecast, you can't switch the spoken language when your device is connected to the Chromecast. To do this you need to disconnect your device from the Chromecast, change the language, and start casting again.